Images from (not so) smoggy southern California. We had in series - cold (lows in the 30's), rainy, and then warm weather. The warm weather came on a mild desert wind, clearing the skies.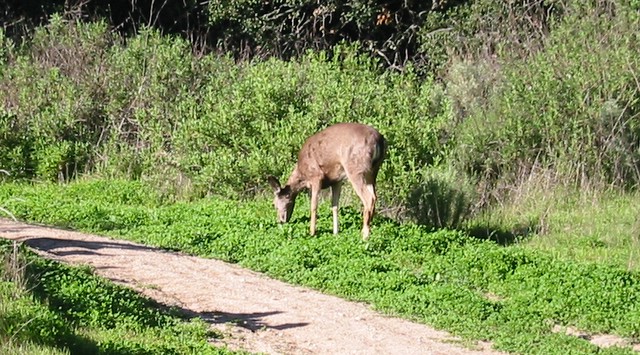 Deer enjoying the new green stuff too much to be bothered by my approach.
A mudslide on the trail in Whiting Ranch. Due to the burst of warm and dry weather after the rains, the ground was again quite firm, so walking over was no problem.
Looking out at Catalina Island from the hills above Foothill Ranch. Note that Catalina is about 50 miles away. Visible to the eye (but outside this picture) you could also see San Clemente Island at about 70 miles.
Over the top of Dreaded Hill.
A bit of new color on the trail.

Looking northwest from Whiting Ranch. Note the mountains in the distance are northeast of Los Angeles.
Down Dreaded Hill.
California snow - the blooms falling from the Dwarf Apple (doubtless a very confused tree at this point) cover the back patio.